Aligners and splints
ALIGNER
Gentle treatment of misaligned teeth in adults
The correction of misaligned teeth with the aesthetic CA® CLEAR-ALIGNER – splint is an important form of therapy in current orthodontics. – Gentle, gentle and aesthetic. This concept of "invisible" tooth correction splints has proven itself particularly in the orthodontic treatment of adults. It is offered by certified dentists and orthodontic practices and guarantees optimal treatment results with high wearing comfort.
Aligners are transparent and biocompatible plastic splints that have been specially developed for tooth regulation in adults and that correct teeth gently and inconspicuously, almost "invisibly", without braces or brackets.
Tooth regulation with the 3 rail system
For each treatment step, 3 splints in different material thicknesses are made individually for each patient. The constant force amplification with every rail change corrects the misalignment gently and gently.
ADVANTAGES
Transparent
The CA® CLEAR-ALIGNER splint is clear and transparent, almost invisible. You can speak and laugh freely without any restrictions.
Comfortable
The high-quality splint ensures a good mouthfeel. It is pleasantly smooth, with no metal parts, screws or wires.
Removable
You can take the splint out of your mouth and put it back on at any time, quickly and easily, e.g. when eating or cleaning.
Hygienic
The smooth surface of the CA® CLEAR-ALIGNER splint allows easy care with a toothbrush and toothpaste.
Effectively/strong>
Treatment with the splint achieves precise correction of the misaligned teeth in a short time.
Inexpensive
The therapy is in many cases cheaper than other types of treatment for tooth regulation in adults.
CMD COMPLAINTS
CMD = craniomandibular dysfunction. Craniomandibular dysfunction (CMD) is a functional disorder of the masticatory system, i.e. the temporomandibular joints, the masticatory muscles or when the teeth are clenched.
TYPICAL SYMPTOMS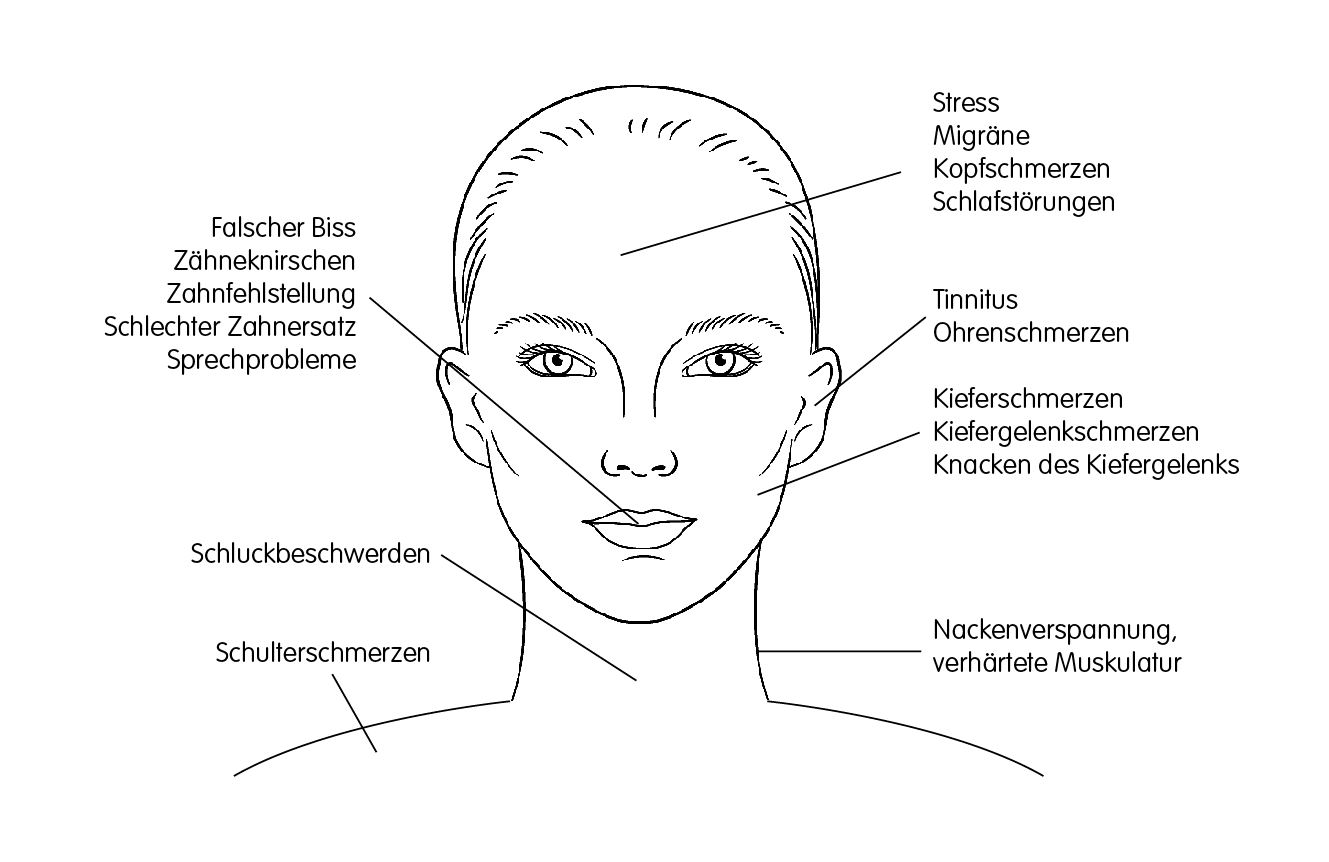 In order to successfully diagnose and treat the symptoms of complaints, a diagnostic splint therapy is recommended before performing orthodontic measures. Because the splint therapy achieves a stable, centric jaw joint position, i.e. the correct bite position is restored. In order to stabilize this permanently, orthodontic or prosthetic care, such as B. occlusal rehabilitation can be carried out.
FURTHER RAILS
Toothed aligners are all-round talents. They lie over the teeth and in this way help those who wear them with various problems. Each splint is individually adapted to its purpose for optimal wearing comfort.
✓ Bite splints
✓ Therapy splints
✓ Sports protection rails
✓ Relief rails
✓ Radiation protection rails
✓ Snoring splints
---